Commercial Window Tinting
LOWER ENERGY COSTS BUT KEEP TENANTS & EMPLOYEES COMFORTABLE
Architectural window film provides a huge financial payback for any commercial property owner. Southern Shade Window Tinting has a complete line of films for nearly every commercial application, whether it's a clear film that allows a retailer to show off their products AND reduce UV rays or a darker, reflective application for a business that needs more privacy or desires a certain aesthetic look.
Installing window film has many benefits including:
Regulate Interior Temperatures
Anyone who's worked in an office building knows how the sunny and shady areas of the building create huge temperature differences. Window film can assist with this challenge and regulate temperature imbalances, giving employees in the heat-prone offices relief from glare and heat penetration
Reduce HVAC Costs
Commercial property owners also favor using window film because of the energy savings. Reflective films, for example, can reduce heat penetration in a building by as much as 80%, lowering air conditioning costs and keeping temperatures moderate in the winter.
Protect Assets
Office buildings with a high percentage of glass provide a more pleasurable interior environment for employees and customers. But with that comes the sun's ultra violet rays that fade interior furnishings, merchandise, signage, and even wall paint, shortening their use and creating replacement costs. Window film installation screens out up to 99% of these harmful rays, allowing the natural light to shine through without the damaging effects of UV rays. You may even realize insurance premium discounts for installing window film.
Increase Safety & Security
In Florida, flying debris and splintered glass can be a concern during storm season. Accidents and vandalism can also pose a risk to employees or interior merchandise and valuables. Safety and security films are designed to help hold broken glass together and lessen the chance of injury or further property damage, or make forced entry more difficult.
Enhance Appearance
Mix and max colors or create new aesthetics and uniformity to a building's appearance. Create private offices or add dimension to spaces with window film which is much more affordable than etched glass or renovations. Decorative window film can give doors and partitions a new look.
Installation is an important factor in choosing a window-tinting supplier. Like our superior product, Southern Shade Window Tinting does not compromise during installation, with the owner personally handling every installation to the customer's satisfaction.
ENERGY SAVINGS CALCULATOR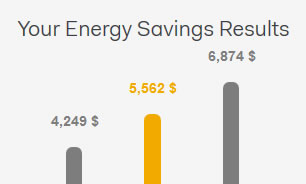 Energy Savings Calculator uses the U.S. Department of Energy's DOE-2 energy simulation program, along with average energy costs for your area, to calculate expected savings.
LLumar Window Film Viewer
Take the guesswork out of choosing a window film with our product viewer. See what the film will look like from the inside looking out.