Car & Truck Window Tinting
A Higher Standard of Window Tinting
You love your car for many reasons – from the driving experience and styling to the comfort and security you feel behind the wheel. And with LLumar window tint you can add another – a more confident ride that comes from knowing you and your family are protected from the sun's harmful UV rays, heat and glare and that your window tint was installed by a Tint Brevard.
Auto enthusiasts agree that tinting car windows with LLumar offers the most stylish appearance of any window tint on the market.
We offer a wide variety of shades from light to dark including ceramic tint that maximizes heat and ultraviolet rejection, keeping you and your vehicle cool and helping to protect from the damaging effects of the sun
Soft charcoal color matches factory privacy glass
Benefits to Window Film Installation
UV Protection
Reduce Heat and Glare
Safety and Security
Keeps vehicle cooler and more comfortable
Helps protect upholsteries from fading and cracking
Did you know drivers in the U.S. have a higher rate of skin cancer on their left side due to exposure while driving?
Here's a scientific fact that most people find hard to believe: While it's rare to get sunburned through your car windows, harmful ultraviolet (UVA) rays that contribute to premature aging and skin cancer can still reach you.
Damage from UVA rays is cumulative as they penetrate deep into the skin and can silently accelerate the aging process, cause wrinkles and even skin cancer. In fact, research shows that drivers in the U.S. have a higher rate of skin cancer on their left side due to exposure while driving.
Why put up with this risk when you don't have to any longer? LLumar window tint blocks more than 99% of harmful UV rays*. It's why The Skin Cancer Foundation recommends window tint as part of a comprehensive skin care program.
Watch this video to learn about how LLumar window film for your auto can help save you money, keep your auto cooler in the summer, warmer in the winter, plus protect your interior from fading.
Automotive Window Tint Viewer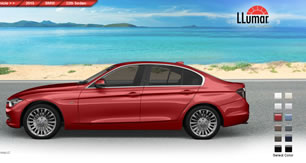 Take the guesswork out of choosing a window film with our product viewer. See what the film will look like on your car or truck.
Automotive Paint Protection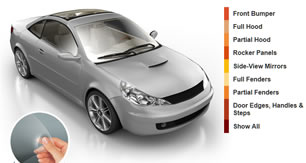 Defend against anything the road throws your way. High-gloss and virtually invisible to the naked eye, Self-Healing Paint Protection Film shields your car from the damages of everyday driving.